Stabilized Amplification Technology
ST

abilized

A

mplification

T

echnology
STAT-NAT®, high quality freeze-dried kits
APPLICATION AREA
Available STAT-NAT® kits:
ROOM TEMPERATURE STORAGE
STAT-NAT® is Sentinel's proprietary technology that has been developed with a new protective compound able to stabilize the activity of enzymes for a very long time with no temperature controlled storage requirements.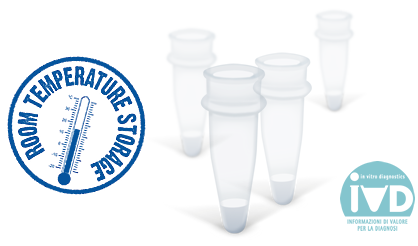 STAT-NAT® is freeze-dried and guarantees long term storage at room temperature.
STAT-NAT® contains all the reaction components.
The enzyme (Hot Start Polymerase) is already included.
STAT-NAT® is a ready-to-use product that minimizes analytical variables.

STAT-NAT® technology yields very good performances in all the most diffused molecular biology techniques.
STAT-NAT® can improve test sensitivity even with low concentrated DNA samples.

ENVIRONMENTALLY SUSTAINABLE
STAT-NAT® needs neither cumbersome packaging
nor temperature controlled shipment.
Find out how we can personalize and increase the performance
of your medical devices.