THE UNIVERSAL SYSTEM
FOR FECAL OCCULT BLOOD
TESTING (FIT)
THE UNIVERSAL SYSTEM
FOR FECAL OCCULT BLOOD
TESTING (FIT)
FOB Gold®
FOB Gold® is a system which comprises a unique "2 in 1" tube for sample collection and a new generation immunological latex reagent for the determination of fecal occult blood. The patented FOB Gold® tube offers a universal solution for screening use and comes in 2 versions.
FOB Gold® Tube Screen
Ref. 11561H
Screw cap tube for direct analysis on all clinical chemistry analyzers and SENTiFOB®.
From fecal sample collection to direct analysis on all clinical chemistry analyzers and SENTiFOB®
FOB Gold®
It comes with the collection stick immerged in a solution to guarantee sample stability after collection.
Sample collection
Just unscrew the green cap with attached stick and collect the sample. Screw the cap back on to seal and store at the indicated temperature.
To analyze
Simply unscrew the secondary closure with white cap. Place the tube directly on the sample tray of the automated analyzer.
SENTiFIT® pierceTube
Ref. 1156188
Single step analysis
Insert the SENTiFIT pierceTube into the sample tray.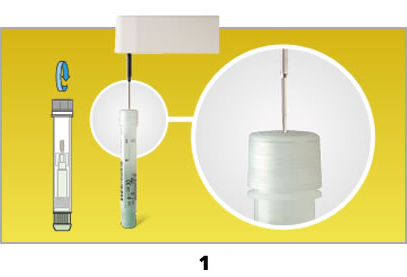 Features
The device has two functions: collection of feces and analysis directly on all clinical chemistry systems
Standardized feces sampling
Hemoglobin in the extraction buffer is stable for 32 days at 2-8 °C or 14 days at RT
The size of the collection device renders it universally compatible with all automated analyzers
Barcode on tube label for patient identification purposes
The feces collection tube is conform to UN3373 (biological substance transport)
User advantages
Straightforward and easy-to-use collection tube feces collection device
No dietary restrictions nor drug interference
Analytical advantages
Latex agglutination assay and turbidimetric reading
High specificity to lower gastrointestinal bleeding
Quantitative result: no individual interpretation necessary
Prolonged on board stability of the reagent
Extended calibration stability
Product available for sale in EU and other selected Countries, please contact export@sentinel.it for info. Not for sale in the USA.