STAT-NAT® DNA Mix
STAT-NAT® DNA Mix is an easy way to perform:
N

ucleic acid

A

mplification

T

echniques.
TECHNICAL DATA
STAT-NAT® DNA-Mix kit is an universal platform for nucleic acid amplification techniques: End Point PCR, Real Time PCR, Melting Curve Analysis, Sequencing, etc., on DNA or cDNA samples, extracted from any biological material.
FEATURES
Important features of STAT-NAT® DNA-Mix kit
STAT-NAT® is freeze-dried and guarantees long term storage at room temperature.
STAT-NAT® contains all the reaction components.
The enzyme (Hot Start Polymerase) is already included.
STAT-NAT® is a ready-to-use product that minimizes analytical variables.

STAT-NAT® technology yields very good performances in all the most diffused molecular biology techniques.
STAT-NAT® can improve test sensitivity even with low concentrated DNA samples.

ENVIRONMENTALLY SUSTAINABLE
STAT-NAT® needs neither cumbersome packaging
nor temperature controlled shipment.
The STAT-NAT® DNA-Mix kit, developed with STAT-NAT® technology patented by Sentinel, consists of a freeze-dried master mix that allows room temperature transport and storage.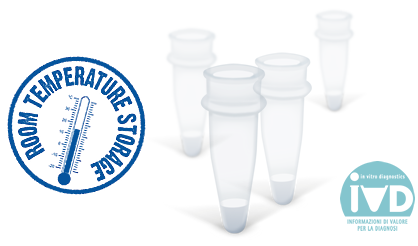 Technical specifications for STAT-NAT® DNA-Mix .
Ref.
1N001
Description
STAT-NAT® DNA Mix
Kit size
96 test
Product available for sale in EU and other selected Countries, please contact export@sentinel.it for info. Not for sale in the USA and Canada.
Find out how we can personalize and increase the performance
of your medical devices.